BERLIN WALL BIKE TOUR
Dicsover the History and Remnants of the Berlin Wall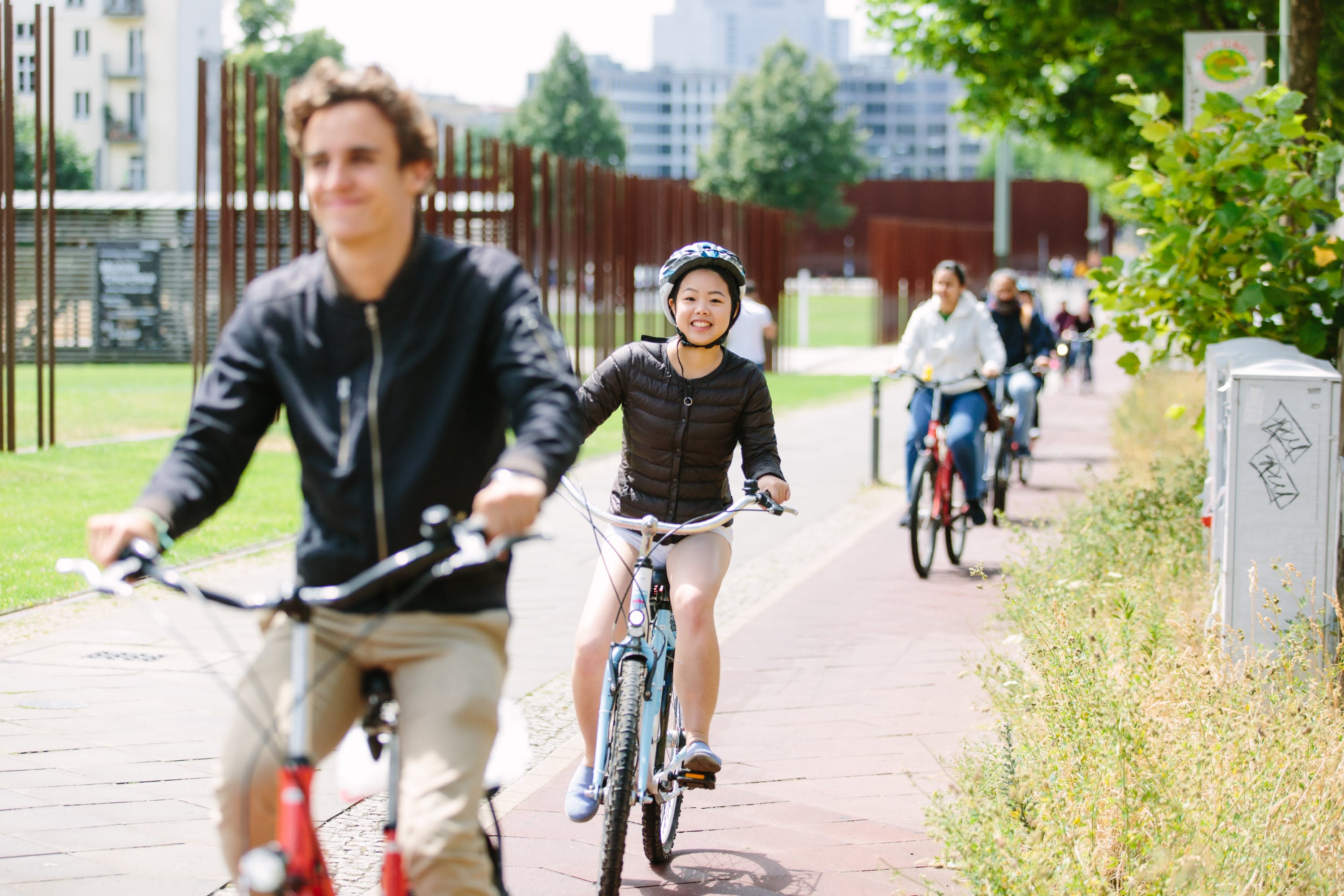 TOUR DESCRIPTION
Berlin today may feel like very welcoming place, but for nearly 30 years it was a city divided.  The Berlin Wall holds a unique place in world history and this tour aims to explain not only what it was, but to put it in the wider context of The Cold War.  The differences between East and West Berlin are still visible, and our guides will set out the physical, political and psychological barriers that were part of everyday life for those living in Berlin during those divided decades.  You'll see fascinating sites not usually on the tourist trail, will learn of spies and great escapes, understand Berlin's unique position within the fall of communism, and have plenty of time for great photographs and insider tips from your guide that help turn a good holiday into an amazing one.  Whether you're already a history buff or are learning about The Wall for the very first time, this tour is a must for any visitor to the German capital.
Expert Local Guide
Comfortable cruiser or city-style bike
Helmet (provided but optional)
Gratuities
MORE INFORMATION
For the second half of the twentieth century, divided Berlin was the epicenter of the Cold War. On this full-day tour, we leave the city center to get away from the commonplace sights and dive into how the Wall made Berlin the unique city it is today. We will ride along the route of the Berlin Wall, crossing between East and West to see and experience the differences that remain to this day. Beginning with the ideological differences between East and West, we will take you through the origins of the Cold War, the Berlin Airlift, the division of Germany, and the construction of the Berlin Wall. We will visit the East Side Gallery, the longest remaining stretch of the Wall, and stop by one of the only remaining East German Guard Towers. The tour will then head to the iconic Soviet War Memorial at Treptower Park, before biking to Tempelhof Airport – site of the Berlin Airlift. Along the way, we will talk about ghost stations, espionage, and escape attempts before stopping at one of our favorite beer gardens (cost not included). Throughout the tour, you'll have plenty of time to get to know your guide and ask questions. There are amazing photo opportunities all day, and we will make sure that you get a chance to stop at each of them. At the end of this full-day tour, our friendly guides would love to help you plan the rest of your time in Berlin by suggesting their favorite places for a currywurst, the best museums to check out, the perfect dance club to stay out all night, or quite simply, a great spot for a traditional German beer. As with all of our other tours, our Berlin Wall Bike Tour maintains a leisurely pace. We use comfortable city-cruiser style bicycles that are easy for everyone. This tour will leave you with a much better understanding of the Cold War and a deeper appreciation for Berlin.
Important Information
What are you covid policies?
Safety is of utmost importance for us, which is why we have implemented increased hygiene standards since 2020. We regularly sanitize all high-touch surfaces, we make masks and hand sanitizer available for all of our guests, and we ask that guests have please wear a mask should you want to enter our shop. This tour is fully outdoors, but we do have restrooms and water available in our shop at the beginning and end of the tour. Also, we offer a 100% contactless check-in, and we strive to socially distance ourselves throughout the tour.
Where is the meeting point?
This tour meets at our Alexanderplatz shop, located at the base of the giant TV Tower (Fernsehturm). The address is Panoramastraße 1a, 10178 Berlin.
Are reservations required?
Reservations are highly recommended! This tour does not run every day, and we would hate for you to miss an opportunity to join us. If you are hoping to join last minute, please come by our office either way. We will do our best to accommodate so long as we're able to maintain small group sizes.
What do I need to bring with me on tour?
Please bring some cash in Euros for the snack break. We also recommend an extra layer of clothing in case it get's chilly during the tour. All of our bikes have luggage racks where you can carry small bags or extra clothes.
Do I need to reserve a bike separately?
Nope! We've got you covered. The bike is included with the bike tour, as are helmets should you wish to wear one. So just bring yourself and we will handle the rest!
Do we stop for lunch?
We will not make a full lunch stop on tour, but there will be a dedicated time for a snack. Please remember that the cost of food is not included in the tour price, and make sure you have some Euro cash as not all places accept cards.
What is your cancellation policy?
For our public Berlin Wall Bike Tour, we're happy to offer free changes and 100% refund up to 24 hours before tour departure. Failure to cancel a reservation at least 24 hours prior to scheduled departure may result in forfeited travel funds. Fare difference may apply. If you're booking a private Berlin Wall Bike Tour, please note that all private tours must be cancelled or rebooked at least 7 days in advance of the activity start time. Failure to cancel a reservation at least 7 days prior to scheduled departure may result in forfeited travel funds. Reschedulings are subject to availability.
Will I have some time to walk around parts of the wall that are still standing?
We've purposely built in time for you to explore the famous No-Man's land during our brief refreshment stop. This strip of land marked the middle between East and West Germany, and your guide will have plenty of information to add to your experience here.
Do you have electric bikes?
This tour is led using standard pedal bikes, as the route is flat and we maintain a leisurely pace. If you're comfortable riding a bike, you'll be just fine.
Is this tour kid-friendly?
In terms of the route, yes. You know your kids best; we will be discussing some troubling topics on this tour, but our guides are well-versed in child-friendly deliveries. We would love to have your whole family join along if you think that your kids would find the content of this tour to be interesting.